Article content
Amber Heard is shooting down rumours that she has been dumped from Aquaman and the Lost Kingdom.
Article content
On Tuesday, Just Jared reported that the actress "is being cut out of" the upcoming DC superhero sequel and her role of Queen Mera will be recast.
But a rep for Heard responded in a statement to the Toronto Sun, calling the report "a false story."
"The rumour mill continues as it has from day one — inaccurate, insensitive, and slightly insane," they wrote in an email.
The news comes after Heard, who was found guilty of defaming her ex-husband Johnny Depp in a Virginia courtroom last month, maintained in an interview with the TODAY show that her allegations of abuse at the hands of the Pirates of the Caribbean star were true.
"To my dying day, I'll stand by every word of my testimony," Heard told Savannah Guthrie. "I made a lot of mistakes, but I've always told the truth."
Article content
During her testimony in her defamation trial against Depp, Heard claimed that she was almost dropped from Aquaman 2 due to the backlash over her domestic abuse allegations against the actor.
"They released me from my contract. And I fought to stay in it, and they kept me in it. I just don't know how much I'm in, actually, of the final cut," she declared.
She also said she appears in the film in a "very pared-down version of that role."
Amber Heard says she'll stand by Depp abuse allegations until her 'dying day'

Petition to drop Amber Heard from 'Aquaman 2' hits record high

Amber Heard expert says Depp 'caused own demise,' spoils 'Aquaman 2'
"I was given a script and then given new versions of the script that had taken away scenes that had action in it," she said. "That depicted my character and another character … fighting with one another. They basically took a bunch out of my role."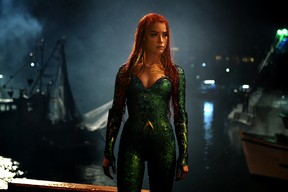 Kathryn Arnold, an entertainment industry consultant, said the only reason Heard kept her small role is because the film's star Jason Momoa and director James Wan "committed to her."
"I believe that in the first act of the movie, she was injured somehow or had something to do with the baby," Arnold said. "She ends up in the hospital in this new Aquaman 2 movie and doesn't really come out until the end to kind of wrap things up but all of the interactions with Momoa's character and certainly the action scenes were taken out."
Article content
But Walter Hamada, the president of DC Films, said that she was almost recast because she lacked chemistry with Momoa.
"They didn't really have a lot of chemistry together," Hamada said. "The reality is, it's not uncommon on movies for two leads to not have chemistry. It's sort-of movie magic to put two performances together and with the magic of a great score and how you put the pieces together, you can fabricate that chemistry. So at the end of the day, if you watch the movie, it looks like they have great chemistry. But I know that over the course of post-production, it took a lot for it to get there."
Hamada also described the sequel as a "buddy-comedy" revolving around Momoa and Patrick Wilson.
A petition to drop Heard from the flick has racked up racked up 4.6 million signatures.
Article content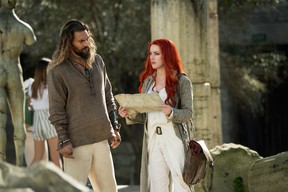 In her original post, fan Jeanne Larson called Heard a "domestic abuser" and urged Warner Bros. to remove the actress from the project.
"Since Heard's divorce from Johnny Depp, she has systematically crusaded to ruin Depp in Hollywood, repeating multiple accounts of fake incidents in which she had actually abused Johnny Depp, but lied and created false accounts of him being the abuser," Larson alleged in her scathing petition.
She continued, "Heard recounts fabricated incidents of Johnny Depp hitting her in the face when she had, in fact, punched him."
According to Just Jared's erroneous insider, Heard's role was being retooled after Warner Bros. screen-tested the movie, which is due out next year.
"They are going to be doing reshoots with Jason Momoa and Nicole Kidman," they wrote.
The website later updated their story to say, "Amber has not been completely cut from the film. She still has a small role."