[ad_1]

Amid all the hand-wringing over the rising office vacancy rate downtown, Montreal may be overlooking a quicker fix to another problem.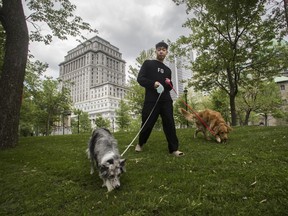 Article content
Two of the biggest challenges Montreal is facing are how to revive downtown, which was hollowed out by the COVID-19 pandemic, and how to ease a growing housing crisis, where affordability and availability are squeezing renters and buyers alike.
Article content
But what if one problem could be part of the solution to the other?
Downtown is coming back to life, with offices recalling workers, university students due back in classes in person next fall and a busy summer tourism season planned. Mayor Valérie Plante, along with civic and business leaders, rejoiced recently over a 77 per cent increase in foot traffic over this time last year and fully booked hotels for events such as the Grand Prix, the jazz fest and Osheaga.
But it has nevertheless become clear that remote and hybrid work are here to stay. Those office buildings, once filled with 300,000 workers a day, aren't all coming back. This is a worldwide phenomenon. Even in London's financial sector, nine of 10 bankers no longer use the office as their main workplace, according to Bloomberg News.
Article content
A recent study by the Chamber of Commerce of Metropolitan Montreal lamented that this city's office vacancy rate could hit 21 per cent as leases end and employers reduce their real-estate footprint.
Instead of trying to turn back time and go against the changing tide in the labour force, Montreal should look at all that available commercial space as a way to help address the growing issue of housing affordability.
A perfect storm of factors has driven up costs for renters and buyers, including a supply crunch and renovictions. Meanwhile, record inflation is eating into disposable income, making higher mortgage payments and rent increases even harder to digest — especially for those already on the margins.
While governments pledge cash and city hall introduces bylaws to bolster the amount of social and affordable housing, it takes time to get financing lined up and shovels in the ground before new units can be constructed.
Article content
The focus on trying to lure back office workers — more than 270,000 of whom once commuted downtown — seems self-defeating when two-thirds of them say they would rather continue to do their jobs from home all or part of the time. Forcing the reluctant to return isn't exactly a recipe for restoring vitality. And it overlooks opportunities to remake the central part of the city into someplace more dynamic, forward-looking and resilient.
If Montreal were to convert even a portion of its empty office space to housing, it could be a quicker fix than building new stock from scratch. There could soon be the equivalent of 11 Place Ville Marie skyscrapers sitting idle, right next to public transportation, retail stores and other amenities.
Article content
Calgary, where a third of downtown office space is vacant, is ahead of the game. It has decided to transform three empty business towers into rental housing.
In Montreal, such a plan could also correct some of the urban planning mistakes of the past. The condo boom in neighbourhoods like Griffintown and Ville-Marie occurred without proper consideration of future residents' needs. Schools, parks, recreational facilities and community centres were left out. Families were in for a rude awakening when they had to ship their kids outside their downtown neighbourhoods because no one bothered to build any schools. Disused office space could be repurposed for these missing services.
It would also be in line with Montreal's environmental goals. A transformation is taking shape in cities around the world to build more sustainable neighbourhoods, where everything residents need is accessible within a 15-minute walk, bike or public transit ride. This emerging model is at odds with the high proportion of commuters on whom downtown Montreal is so dependent. Whether through new construction or quicker and more cost-effective conversions of office space, the core would be less susceptible to volatility if more people lived there.
Article content
It's also smarter economics. The ecosystem of downtown businesses catering to all those white-collar workers — from coffee shops and restaurants to dry cleaners — was hit hard by the departure of the office crowd. But other parts of Montreal have weathered pandemic lockdowns in much better shape. Scores of people suddenly working from home — and milling around during the weekday — were an important bulwark for local mom-and-pop shops. Downtown might be better off today if its main clientele were denizens rather than visitors.
Downtown will always be a destination for people to work, shop, visit, eat and be entertained. But rising office vacancies could be one way to address Montreal's housing crunch, rather than be a problem unto itself.
Hanes: Transit agency needs new funding model to address shift in commuting patterns

Hanes: Yes, Montrealers are moving to the country, but urban life is still thriving
All our coronavirus-related news can be found at montrealgazette.com/tag/coronavirus.
For information on vaccines in Quebec, tap here.
Sign up for our email newsletter dedicated to local COVID-19 coverage at montrealgazette.com/coronavirusnews.
Help support our local journalism by subscribing to the Montreal Gazette.
[ad_2]

Source link