Article content
Calgarians can expect to see emergency disaster notifications popping up on their smartphones as early as this Friday.
Article content
Alert Ready, the country's early warning system, already uses TV and radio broadcasts to notify Canadians about major fires, floods, environmental disasters and terrorist attacks. It is also used during civil emergencies like Amber Alerts or when wildlife threatens public safety.
Smartphone notifications will go live Friday, allowing all levels of government to provide updates on the go for LTE-enabled devices, while 3G users will need to rely on the Alberta Emergency Alert app. 
Tom Sampson, chief of the Calgary emergency disaster agency, called the cellphone alerts a "huge step forward," saying Calgarians would have been better prepared to evacuate if the cellphone option had been in place during the 2013 southern Alberta floods.
Article content
"We had to send firefighters, police officers, door to door in Alberta to tell people to evacuate," Sampson said. "What we know is that almost 95 per cent of Albertans have … a smartphone within reach, and so we will be able to push a message to those phones in critical circumstances to advise them that we need them to evacuate."
Sampson said the notifications won't just be for evacuations, adding Alberta Emergency Alert sent out 16 notifications last year — nine related to fire, five related to severe weather and one for an Amber Alert.
The first test of Alert Ready's smartphone notifications is set for next month. Because the notifications are not optional and will be sent to LTE-capable smartphones and devices, Sampson said the alerts will only be sent out in "critical, life-threatening" emergencies.
Article content
"If your phone is on and it's in an area where LTE is accessible, you will get the message," he said, adding even people with out of province numbers who are visiting Alberta will receive the notifications.
Sampson said the system has a number of failsafes — including being able to instantly cancel an alert — to avoid sending out incorrect information and false alarms, like when an emergency broadcast system in the state of Hawaii sent out a false alert about an incoming missile attack in January.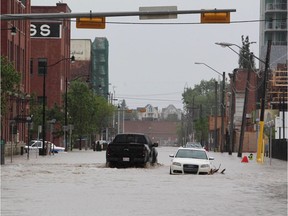 Sampson said he took a trip to Hawaii to examine the early warning system there, identifying a number of issues with the "antiquated" system, including having the test alert and missile alert options directly next to each other, password issues and training gaps.
Article content
"They had a calamity of errors that caused them to have a situation that was, well, legendary," he said.
Sampson said the alerts will be city-wide at first but the system will be able to target specific areas starting sometime this summer.
The first test of Alert Ready will take place on May 9 at 1:55 p.m.
Speaking on emergency preparedness in general, Sampson said every Calgary household should has a 72-hour kit. Details on what to put in your kit can be found on the city's website.
Visit www.alertready.ca for a list of scheduled system test dates and more information on the types of emergencies Alert Ready will broadcast.
On Twitter: @RCRumbolt