Article content
Access to a geological formation running along the Bow River and underneath Calgary that provides a valuable glimpse into the late Ice Age is dwindling faster than expected, says a paleontologist who has studied it for more than 40 years.
Article content
The Bighill Creek formation has yielded scores bones from camels, mammoths, giant bison and other occupants of the Bow River valley 11,000 to 13,000 years ago, but a combination of development and, oddly, dwindling gravel mining is closing the window of opportunity for further discoveries, said Michael Wilson, a paleontology consultant and retired chair of the Earth Sciences program at Douglas College in New Westminster, B.C.
Article content
Wilson has been studying the Bighill Creek formation since the  '70s, when he was researching his doctoral thesis.
"The Bighill Creek formation is actually a spotty occurrence along the river valley, and the other thing is that it is economically very important. The gravel is 'clean,' which makes it very attractive for aggregate mining. In most areas where these gravels occur, there have been major gravel pits," he said.
Article content
But that's not a bad thing for paleontology.
"As the source of fossil material from the late Ice Age, it's a wonderful snapshot of the vertebrate fauna of this area. Now, these bones are not extremely abundant and the fact is that we would not probably know about them were it not for the gravel mining," Wilson said.
Article content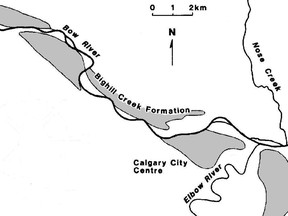 At the Royal Alberta Museum, curator of quaternary paleontology Chris Jass oversees the province's relationship with sand and gravel quarry operators that unearth bones and fossils during excavations.
"As a scientist, I'm glad that the gravel guys are there extracting because, otherwise, we wouldn't have even half of the collection that we have," Jass said.
"One of the reasons that we have the material that we do and the knowledge that we do is because of the fact that the gravel mining is taking place."
Article content
As the gravel resources in the Bighill Creek formation are depleted and urban growth continues in Calgary and area, Wilson said the window of opportunity for finding further specimens is drawing to a close.
"It's been a wondrous relationship that we've had with all of these factors, the mining, the erosion and so forth, but now we're coming to a point where we're sort of running out of occurrences of the Bighill Creek gravels, except for little pieces left behind here and there," Wilson said.
So much so that Wilson is now mining newspaper archives, trying to track down old finds mentioned in stories, including the mystery of a mammoth tusk discovered during dam construction in Kananaskis in 1913. A photograph exists but the tusk's current whereabouts is a mystery that Wilson is working to solve.
Article content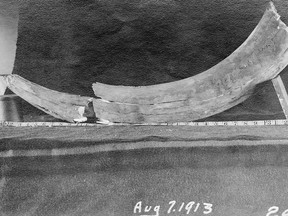 "I'm convinced that in the city area, there are people who have bones that were collected from gravel pits along the river at various times in the past, maybe decades ago, and they might still be present in people's private holdings," Wilson said.
"You know, 'Oh, yeah, dad gave us this bone he found.' If we could pinpoint their point of origin, that could be really scientifically important."
---
Michael Wilson will be one of the speakers Saturday at Paleo 2018 in Calgary, a free event featuring paleontologists from around Alberta and the country. It also includes a free identification booth for any fossils that you may have around the house.